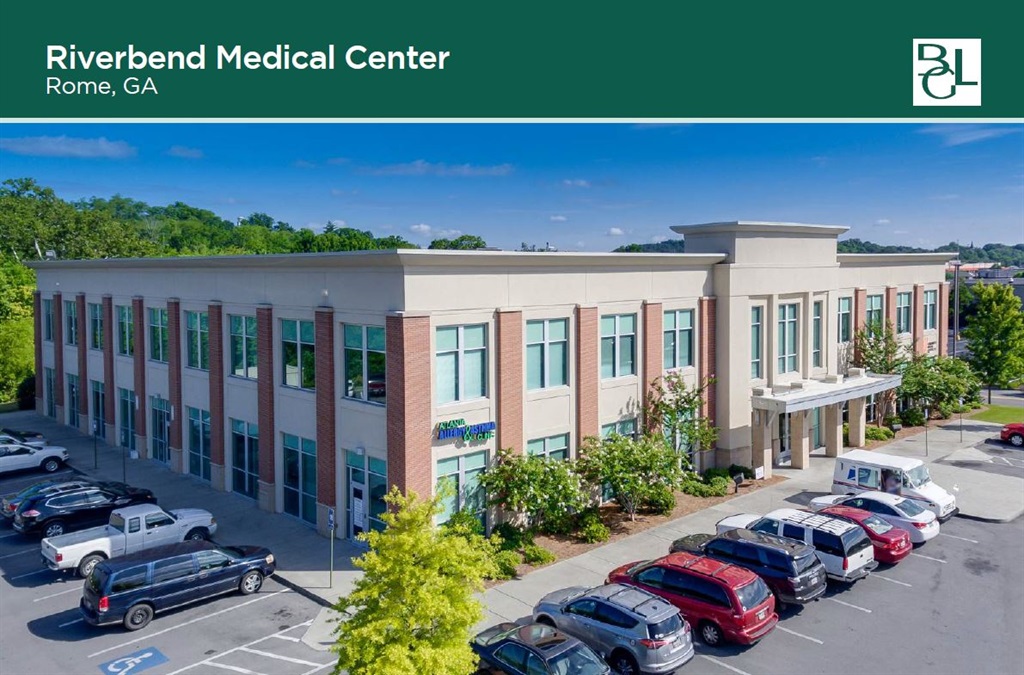 Brown Gibbons Lang & Company | Real Estate Partners has been retained by ownership to offer qualified investors the exceptional opportunity to acquire Riverbend Medical Center and Ansley Park Medical Building, which consist of approximately 44,918 rentable square feet (the "Properties" or "Portfolio"). Located in Rome, Georgia, a hub for healthcare providers servicing Northwest Georgia, the newly built and state-of-the-art Riverbend Medical Center (the "Building" or "Property") provides exceptional patient access and convenience from Riverbend Drive in downtown Rome.
Riverbend Medical Center is ideally located approximately 1.5 miles from the 304-bed Floyd Medical Center ("FMC" or "Hospital") and 3.5 miles from the 230-bed Redmond Regional Medical Center, a member of Hospital Corporation of America (NYSE: HCA). The physicians of Northwest Georgia Medical Clinic ("NGMC"), a leader in women's healthcare for Northwest Georgia, have practicing privileges at both hospitals, but predominantly practice at Floyd Medical Center where NGMC delivers approximately 50% of all newborns for the Northwest Georgia region. With approximately 2,200 births annually, NGMC represents the largest percentage of patient admissions at Floyd Medical Center with 27% of all admissions. Redmond Regional Medical does not provide maternity care.
The Properties are 100% leased and occupied and generate a projected Net Operating Income of $986,482 with annual fixed rental escalations of 2%. This is a unique opportunity to acquire two physician-owned buildings that were thoughtfully designed and built for healthcare providers and patients alike. The Portfolio includes as tenants NGMC, Atlanta Allergy & Asthma, Children's Dental Center, Quest Diagnostics, and Harbin Clinic. Upon closing, Northwest Georgia Medical Clinic will enter into a new 12-year master-lease for the Portfolio.
Opportunity Highlights
The Portfolio has a Year-1 NOI of $986,482 and is supported by a 12-year triple-net lease with annual fixed rental escalations of 2%.
Physician-owned Portfolio consisting of a Class 'A' multi-tenant medical office building and a single-tenant medical building with a history of stable tenants.
The Portfolio will be master-leased by Northwest Georgia Medical Clinic, the dominant OB/GYN practice for Northwest Georgia and Northeast Alabama.
The Portfolio is strategically located approximately 1.5 miles from the 304-bed Floyd Medical Center (Moody's rated: Aa2), where there are over 2,200 newborns delivered each year.
The physicians of NGMC are responsible for over 50% of births at Floyd Medical Center each year where OB/GYN care represents 27% of all inpatient admissions at FMC.
Floyd Medical Center is the leading Hospital in the region with over 50% market share in its Primary Services Area, which includes the surrounding three (3) counties, and leads the Total Service Area with 34% market share for the surrounding six (6) counties.
Reminder – Call for Offers Date: Thursday, August 25th, 2016
Submit questions and offers to: Allen Inman | ainman@bglco.com
View the Executive Summary for more information.
Bypass the online summary and directly execute the Confidentiality Agreement​
Contact Information
Christopher L. Stai, CPA | Managing Director
BROWN GIBBONS LANG | Real Estate Partners
Direct: 949.936.2665 | cstai@bglco.com
Clinton J. Parker | Managing Director
BROWN GIBBONS LANG | Real Estate Partners
Direct: 210.352.5832 | cparker@bglco.com
Andrew R. Larwood | Associate Director
BROWN GIBBONS LANG | Real Estate Partners
Direct: 312.658.4756 | alarwood@bglco.com
Allen C. Inman | Associate Director
BROWN GIBBONS LANG | Real Estate Partners
Direct: 312.658.4754 | ainman@bglco.com
Christopher D. Sackley | Managing Director
BROWN GIBBONS LANG | Real Estate Partners
GA RE License #364135
The full content of this article is only available to paid subscribers. If you are an active subscriber, please log in. To subscribe, please click here: SUBSCRIBE