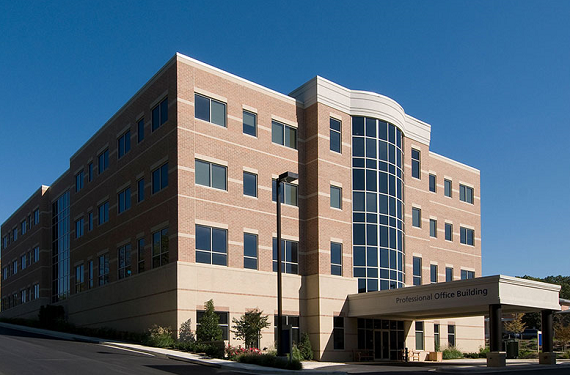 JLL research shows that the largest medical office owners were active buyers in 2016, but the hot money shifted and with it – a few surprises.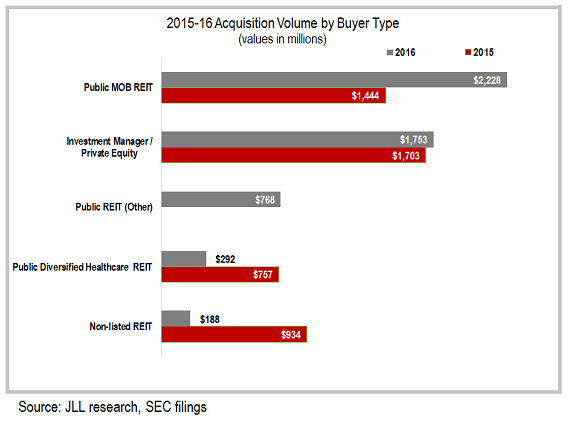 Key Points:
The largest buyers in 2016 were the public medical office REITs (DOC, HTA, HR) which enjoyed record high share values in mid-2016. These focused REITs were often the most competitive buyers of high value, health system-aligned properties. Physicians Realty Trust was the most prolific at nearly $1.3B, half of which came from the $660M CHI monetization.
The large traditionally acquisitive diversified REITs (HCP, VTR, HCN) were measured in their medical office buys as their organizations focused on managing post-acute and seniors investments to transform operating income and drive share prices.
Investment managers / private equity maintained a steady acquisition pattern. This group is more apt to use property-level debt and could be adversely impacted by upward rate movement that reared its head during the year. Private buyers were ready to acquire top-tier properties when the share prices of public REITs dropped, adversely affecting their pricing power.
The non-listed REITs were substantially less of a factor in 2016. Historically active players like Healthcare Trust and CNL were closed to fundraising and the newly-formed Griffin American Healthcare REIT IV was gradually building up activity. Collectively, they were adjusting to the shifting regulatory environment for investment advisors.
The most notable new entrant was Starwood Property Trust, a diversified public REIT, that acquired the $768M Northstar portfolio in December. The buy is representative of burgeoning interest in healthcare from traditional real estate investors. Expect more to come on this front.
Overall, the 16 largest buyers of medical office represented more than 2/3 of total 2016 acquisitions compared to 54% of 2015 acquisitions. No doubt, the major CHI and Northstar portfolios were the factors behind this uptick. The market visibility and clout of this top buyer pool was evident even as total sales volume dropped from 2015, a function of lower supply even in the face of growing investor interest in healthcare.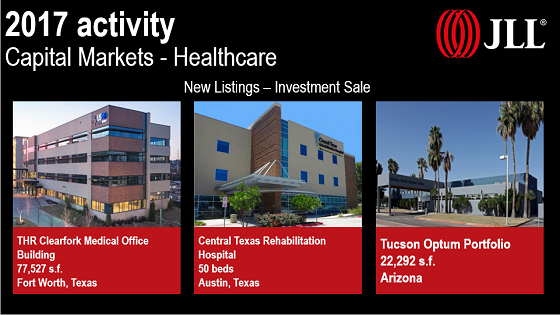 Stay tuned for next month's insight.
JLL Healthcare Capital Markets
JLL Healthcare Capital Markets is the only national full service healthcare capital markets team in the real estate industry focused on medical office, hospitals, seniors housing and post-acute care. The team consistently transacts over $1 billion annually with unrivaled expertise and experience in investment sales, monetization, development debt and equity capital raise and advisory services for investor and provider clients. JLL has an extensive national and international presence that delivers local market knowledge and exceptional access to capital.
For more details, or if we can help with your healthcare real estate needs, please contact us:

Mindy Berman
Managing Director
+1 617 316 6539
mindy.berman@am.jll.com

Steve Leathers
Executive Vice President
+1 212 812 5867
steve.leathers@am.jll.com

Daniel Turley
Executive Vice President
+1 617 316 6521
daniel.turley@am.jll.com

Brian Bacharach
Executive Vice President
+1 214 438 6462
brian.bacharach@am.jll.com
The full content of this article is only available to paid subscribers. If you are an active subscriber, please log in. To subscribe, please click here: SUBSCRIBE